Before proceeding further, please read the following notices:
Please read this before adding or editing Specifications Values for Vehicles. (How To Add Vehicle Specifications)
Please read this before adding or replacing Photographs of Vehicles. (How To Photograph Vehicles, Edit And Paste On This Wiki)
Please read this before adding or editing a comment/page. (Community Guidelines)
Welcome to the Wiki!
Welcome to the Vehicle Simulator Wiki, that is run by Soulless Creature and a few admins!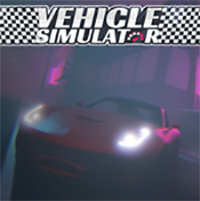 What is Vehicle Simulator?
ROBLOX Vehicle Simulator is a one of a kind driving game on the popular online platform ROBLOX. You have unlimited choices as what to do, you can have races, host car shows, fly planes or even go on Yacht cruises! There are tonnes of cars, boats and planes to choose from, and many different customization opportunities, such as adding camber, colouring your car, adding nitrous or even adding working C4 to your car! Starters get to choose from 3 different cars when they start off with, the Subaru BRZ, Chevy Camaro or the Corvette Stingray. Players also get to start with $40,500 cash if they want a new car or to modify their starter car. After this, all players can progress, by simply driving to earn money and add to their mileage. You can also boost your income by racing other players. So, start your Vehicle Simulator journey, have fun!
Play the game here: Game link
Official Wiki Discord
If you'd like to keep up to date on the wiki or just chat with other contributors, join our Discord: invite link.
Community Polls
Want to share your opinion? Vote on our polls!
What is your opinion on the new Wiki Theme?
Out of the new cars, which one is your favourite?
All the Vehicles
For all land vehicles, follow this link: Land Vehicles
For all aquatic vehicles, follow this link: Aquatic Vehicles
For all air vehicles, follow this link: Air Vehicles
We need your help!
The wiki has many pages that need re-formatting and fixing up. In the categories below, you can check through these pages. We would love it if you could help us get them into shape!
News
Any news about the game will be posted here! News will be taken from the official Discord.
Game Page:
New Vehicle (Classic BMW)
Full Moon Festival (30 Minute Virtual Concert) (Western hemisphere 5pm PST / 8pm EST) (Eastern hemisphere 12pm GMT)
Discord, 7/06/2020:
Full Moon Festival is now live in Vehicle Simulator!
Upcoming updates:
New phone, more vehicles, full moon festival, new map, and way more!
Official Game updates
All changelogs are taken from the official Vehicle Simulator Discord.
Recent Updates (21-06-20):
4 new vehicles, and the return of the Bucatti Vacances!
New building models
New UI revamps for vehicles/store/spawning
New lighting
New dealership system (Easier to find vehicles you're looking for now).
Latest Activity
Community content is available under
CC-BY-SA
unless otherwise noted.